Main Page
From Dragon1 | wiki
Dragon1 is an Open Enterprise Architecture Method and conforms to the Architecture Framework ISO-Standard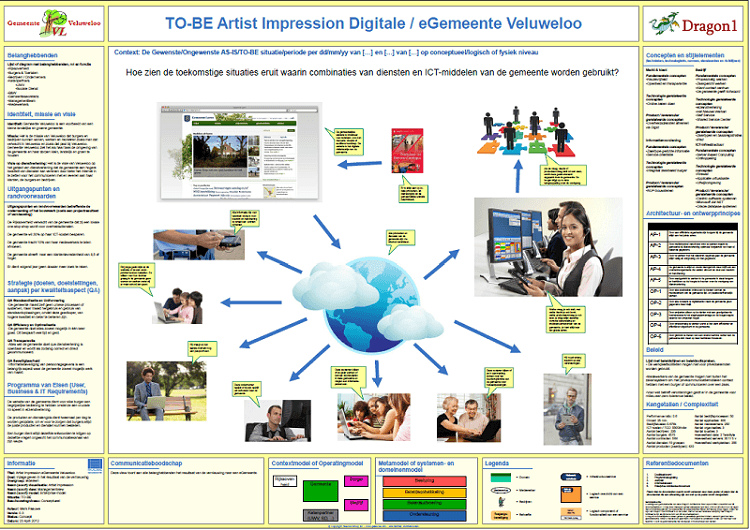 Dragon1 | EA Method is the open architecture method for Visual Enterprise Architecture.
Dragon1 | EA Method is an open architecture method having a focus, next to design, modeling and realization, in visualizing enterprise architecture. The Dragon1 EA Method is especially intended to be used at strategic level by stakeholders such as, board members and CxO's, program managers, policy workers, architects, project leaders, developers and engineers.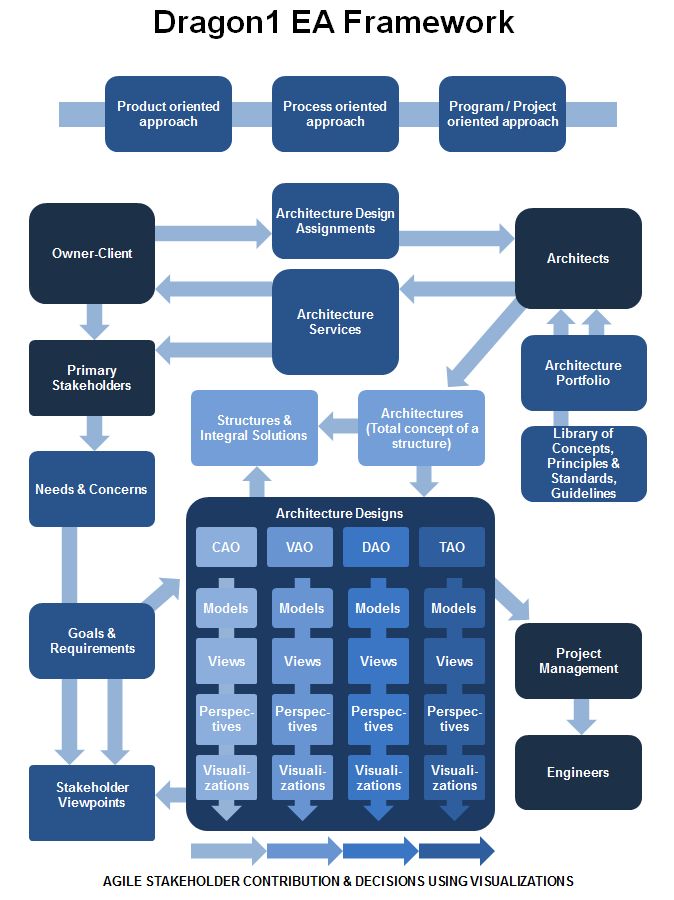 Dragon1 Viewed as an ISO Compliant Architecture Framework

Dragon1 is unique because as a method it observes the whole enterprise from an integral perspective using Visual Enterprise Architecture. This means that at conceptual, logical, physical and implementation levels of abstraction, different types of architecture visualizations can be created for stakeholders. With informal and formal visualizations, such as sketches, drawings, schemas and photographic images, fundamental strategic changes and innovation, risks are better manageable and easier to be controlled. Visualizations make complex issues and concerns, much better than written text, decidable. Your benefit: a better governance and ROI of the enterprise.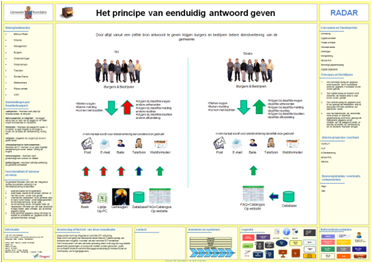 In Dragon1 architecture designs and working mechanisms of principles are the center pillars for every architecture project. Owner-Clients need to provide architects with a architecture design assignment, so the architects can start collecting requirements, and visualize possible realistic scenarios for realizing the designed enterprise-structures or solutions.
Where to start with Dragon1?
Dragon1 has different starting points.

Main starting points are:
Read the printer Text Books from cover to to cover and browse across the articles on this wiki.
Follow the Dragon1 Starter Procedure to explore the method and to learn and know what you can do with it.
Just starting working with Dragon1 and when there is a question checkout the FAQ page, and add your questions or follow the answer to your question.
Check out the example projects and follow their development step by step.
Choose one of the Dragon1 Open Standards that fit your need and start creating the professional in the way the Open Standard prescribes.
Take an online course (elearning) or do class based training.
Choose the starting point that best fits you. If you have any questions what might be best for you, just contact the Dragon1 Architecture Foundation via info@dragon1.org.
Dragon1 Open Standards: 21 pieces
Dragon1 is a complete open EA method. The many architecture concepts that are part of the Dragon1 EA Method have been grouped in to 21 logical Dragon1 Open Standards.
These Dragon1 Open Standards can be used independently from each other and can be used very well to enrich your own way of working with architecture or to complement any other project or architecture methods.
Below is a list of the current Dragon1 Open Standards:
History and positioning of Dragon1 | EA Method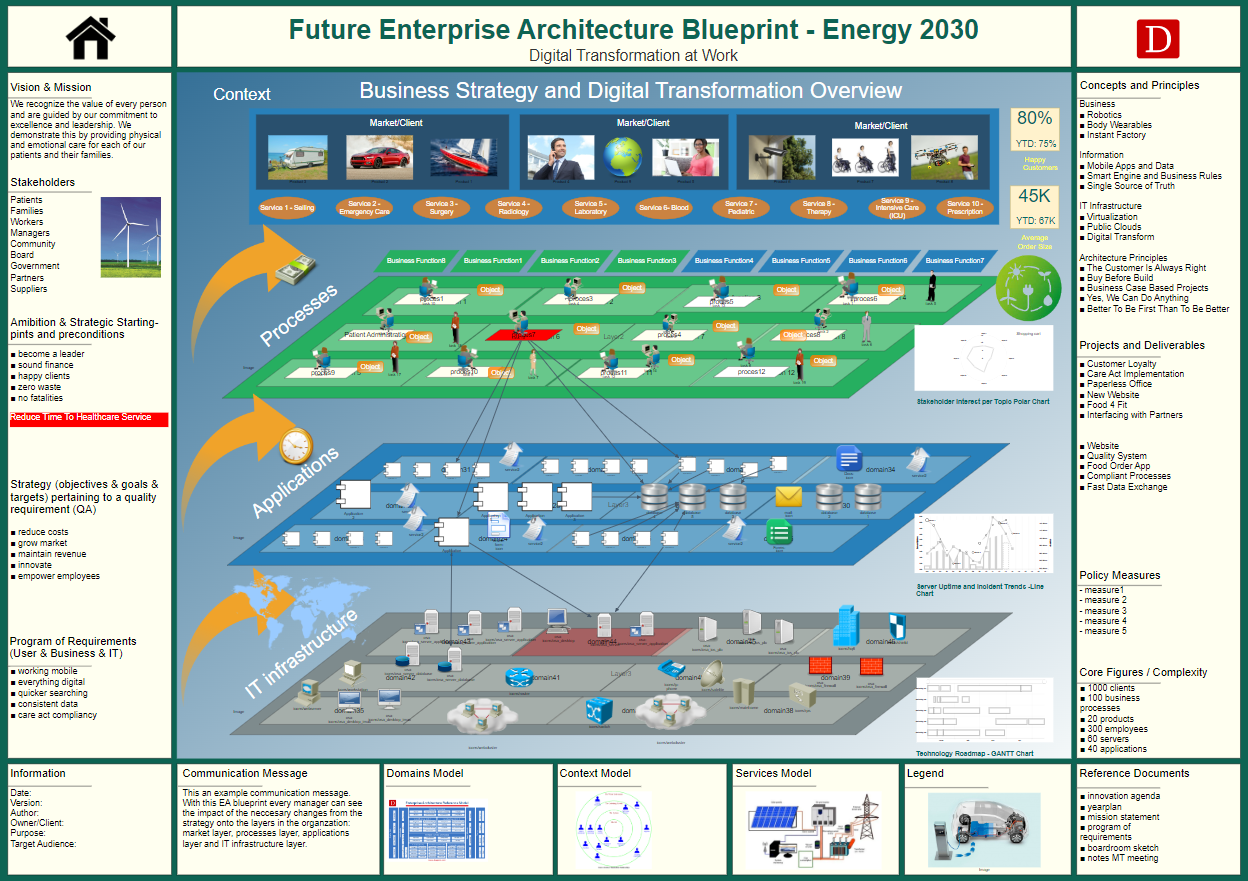 Dragon1 is an open architecture method. Dragon1 is available to the public since 2007 and is developed by Mark Paauwe, the founder of Visual Enterprise Architecture. The Dragon1 open method is maintained by the Dragon1 Architecture Foundation.
Dragon1 does not primarily focus on formally describing and modeling the IT architecture (supply side), but focusses on the informal visualization of architecture designs (total concept designs) of the whole enterprise. With that Dragon1 focusses on the business-side of the enterprise, the business architecture (demand side) and it collaborates integrally with other architectures such as information architecture, technical / IT architecture, security architecture, financial architecture and for instance human capital architecture.
Dragon1-model Positionering in Domeinen
Dragon1 is unique in visualizing and communicating architecture for decision support and architecture design, tailored to the needs and concerns of stakeholders and their viewpoints. By visualizing complex concerns and issues from different angles and viewpoints, on big-sized A0-posters that show the impact of a solution in all layers and domains of the organization, Dragon1 architects facilitate stakeholders in choosing the best fitting option for the issue or concern in question. In 'Positioning Dragon1 in Domains' it is made very clear which architecture domain is best suitable and applicable.
Dragon1 describes how board members, directors and managers can make sure that every part and facet of the enterprise functions as agreed, by having visual architecture designs, as part of the implementation strategy. With Dragon1 one can visualize needs (requirements) of the business and translate them into an optimal information facility (set of information systems) and how the demand for information services can be translated in an optimal IT Infrastructure supplying these information services. This for the short term and for the long term.
Dragon1 is suitable for enterprises (SME's and LME's). This because every organization is nowadays part of a system, chain or network, where it wants to maintain, conquer or expand its position. Dragon1 consists of standardized architecture professional products, architecture services, work processes and supporting materials for creating and implementing architecture in the enterprise.
Dragon1 is divided in method-'ways' and every method-way is divided into Dragon1 concepts. The most important Dragon1 concepts are also promoted into 21 open standards that are applicable independently in addition to other methods or the own way of working with architecture in an organization. These 21 open standards provide direction to work with architecture for decision making, using Visual Enterprise Architecture as focus.
Dragon1 has been found to be used effectively in conjunction with architecture frameworks such as TOGAF, DYA and ArchiMate and dutch reference architectures, such as NORA, GEMMA, Marij, Petra, VERA en CORA.
Read here about the differences between Dragon1 and other frameworks: Difference between Dragon1, ArchiMate and UML. Difference between Dragon1, DYA and TOGAF and the difference between Dragon1 and PAM/Joosten.
Quick Introduction: What is Dragon1?
What is Visual Enterprise Architecture?
Visual Enterprise Architecture can be described as follows: 'The integral design and realization of (parts of) enterprises, with the frequent usage of stakeholder-aligned visualizations for common views, judgements and descision making.'
'The correct architecture visualizations at the right moment enable owner-clients, stakeholders, program managers and specialists to gain a common view and understanding of overviews and insights in a short period of time. Next, everyone is in his or her territory or domain empowered to take far better decisions, such as choosing for durable and future-proof solutions.'
The sorts of communication oriented visualizations used in Visual Enterprise Architecture, such as artist impressions, design sketches, principle drawings, collages and structure visions, are derived from the building architecture and are now used for imaging, overview and insights of inter-relationships and decision making in enterprises.
With 24 different generic sorts of standard visualizations for Visual Enterprise Architecture, every stakeholder of a change or innovation, that needs to take decisions for the next step in the project, has a matching view making risk, ROI, budget, time, money and impact visible in the existing organization.
Decision Supporting Visualizations for Stakeholders
With communication oriented visualizations board members, directors and managers are able to organize and structure the entire enterprise compliant to the architecture and have it visualized understandable by the architects. Next, for every issue, concern, challenge, solution or ambition the impact of change or implementation can be visualized in relation to structure and architecture, but also related to vision, strategic starting points and enterprise requirements.
With the aid of communication oriented visualizations, that are provided with clear context, it is much easier to create in a short period of time a common view and understanding between team members of the interrelationship and coherence in enterprise-structures. So that decisions are taken far more quickly as oppossed to textual documents about the architecture. In strategic change or innovation-projects detailled visualizations help to govern and manage the realization of a solution by project workers.
Whether if it is about design and realization of new enterprises, business processes, information systems or IT Infrastructures, with small sized sketches and drawings of principles and concepts, or bigsized blueprints and artist impressions that visualize different situations, one can visualize in a very effective and efficient way a common view and understanding and thus support decision making by stakeholders.
Small cartoonesk visualizations of ambitions and strategic starting points in a yearplan, a drawing of the working mechanism of a principle or a sketch of a total concept for example ehealth or e-service delivery. All of these visualizations will contribute to more support and understanding about difficult issues, concerns and strategic decisions.
Visualizing from Concepts to Solutions
The architecture of a enterprise-structure is according to Dragon1 a coherent set of concepts. Concepts are, in this, the most important parts of architecture. A concept in Dragon1 is a term for depicting and naming an idea, an abstraction, an implementation, an approach or a way of working. A concept is almost synonym to pattern.
New concepts such as self service, cloud computing, web application, open innovation, redundance, entrepreneurship, optimalization, singularity, service orientation, standardization, CRM, etc. can give your enterprise a competitive advantage, but only if you comply to the rules of the concept for producing the beneficiary results with the way the concept works. You design and build a solid but flexible architecture consisting of concepts.
Dragon1 supports you as an architect or director to identity and to recognize the business concepts and IT concepts that are present in your enterprise today. But also which new concepts fit best your strategy and culture, to implement successfully in the enterprise.
The concepts are used by you to (re)design a new enterprise architecture (total enterprrise concept) existing of new and reused concepts in compliance with the concerns and needs of stakeholders. The new enterprise architecture will consist of business architecture, information architecture, technical architecture, security architecture and other architectures whenever needed. Dragon1 facilitates the design and realization of lean and agile architecture and structures.
Conditions and Licenses for usage, application and development
Non-Commercial Usage and Application
Dragon1 | EA Method is an open method. This means for Dragon1 that only an end-user license is required to use Dragon1 materials if that person applies Dragon1 non-commercially, for internal purposes, in the organization. An end-user license can be requested by the | End User License Form to complete and return it. An end-user of the method does not need to certify as an architecture professional or as an architect, although it is recommended for the higher quality of the architecture products that are created. The same goes for an end-user organization. They do not have to be accredited in accordance with the method to be using the method, although this is highly recommended.
Commercial Usage
At the time that a person or organization or parts of Dragon1 are commercially applied, a Dragon1 Commercial License is required, the person must have a certification and the organization must have an accreditation. For architecture consultants and architecture trainers, a certification program is available. For consultancy organizations (ACO's) and training organizations (ATO's), an accreditation program is available. If an organization or person offers, provides or delivers any commercial product or service where Dragon1 as a whole or in parts, in original form or modified form, parts of it, the product or the services have to be first certified through the Dragon1 Architecture Foundation. See http://www.dragon1.org for more information.
Maintenance
On everything that is Dragon1 or part of Dragon1 property rights and copyrights are vested. The Dragon1 Software Company, a trading name of Paauwe Group BV, is the owner of the Dragon1 EA Method. Also on the whole of Dragon1 or parts of Dragon1 that are translated and / or developed and / or expanded, these property rights and copy rights are in effect. The intellectual property of the renewals to the method, it's products or services automatically belongs to the owner of Dragon1. It is not allowed to use Dragon1 and make parts of the method part of other methods, products or services without having a valid Dragon1 commercial license. You need to register your method, product or service in advance for certification to possibly obtain a commercial license for the method, product or service. If Dragon1 or parts of the method are used in other methods, products or services, direct reference to the source of the Dragon1 method must be made clear and can only be as long as you have a valid commercial license. A reference to the Dragon1 | EA Method should look like this:
Infringement of the rights of Dragon1 will be punished.
Development
Everyone in possesion of an end-user licence or certifiation is invited via the Dragon1 User Group to participate and collaborate in the development of Dragon1 at the Dragon1 Open Knowledge Events. Proposals and Requests For Change for the method are submitted by the Dragon1 working groups and will only be processed, researched and implemented by the Dragon1 Architecture Foundation.
See Also
External Links
References
Martin van the Berg et al (2009), Wegwijzer voor methoden bij enterprise-architecture - I.S.B.N 978 90 87530 97 6
Paauwe, Mark (2010), Visuele Enterprise Architectuur | Dragon1 Studieboek, Dragon1 Inc. - I.S.B.N. 978 94 90873 01 1
Paauwe, Mark (2011), Visuele Enterprise Architectuur | Dragon1 HBO Studieboek, Dragon1 Inc. - I.S.B.N. 978 94 90873 07 3
Paauwe, Mark (2012), Dragon1 Open Standaard | Architectuur Principes, Dragon1 Inc. - I.S.B.N. 978 94 90873 05 9